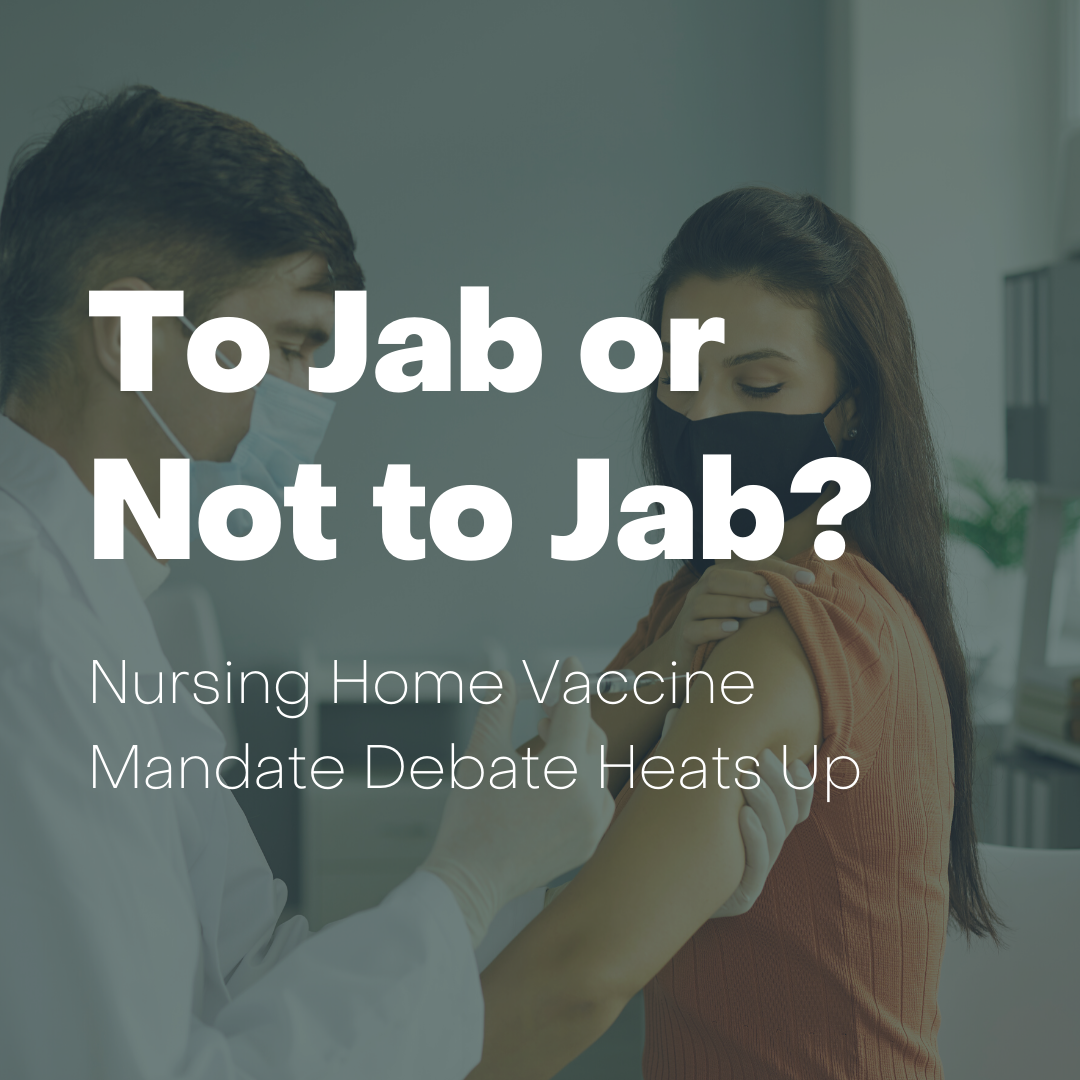 To Jab or Not to Jab? Nursing Home Vaccine Mandate Debate Heats Up
by Brian Lee, FFBC Executive Director | August 5, 2021
Genesis HealthCare recently announced employees must now get a COVID19 vaccine. Period. Company leaders warned that if staff failed to comply, they would face disciplinary measures, including the possibility of termination.
According to the company's website, nursing home staff must have a single dose vaccine by August 23 or the second dose of a two-shot mRNA vaccine no later than September 22, 2021. Federal COVID-19 data shows 65 percent of Genesis's nursing home employees are currently vaccinated.
The company's decision represents a watershed moment in the debate over vaccine mandates. As America's largest nursing home company, with more than 300 nursing homes sprawling across 25 states, what they say and do carries a lot of weight with other providers. The company's action establishes a precedent that will make it a whole lot easier for other nursing homes to quickly and easily follow their lead. In fact, Brookdale Senior Living and Massachusetts's Governor Baker announced similar vaccine requirements for facilities.
Immediate reaction to Genesis's polarizing policy was mixed.
Nursing home families and health care workers lit up social media to make their voices heard. Some asserted vaccine mandates are overly needed to "protect the elderly," while others argued it was a "whole bunch of nonsense."
@AuthorLisaMarie defended Genesis, saying that vaccinating staff is needed now to protect the residents. "Nursing home residents are among our most vulnerable population. I would expect anyone working in this setting to be vaccinated, wouldn't you?"
@PamelaAdams agreed, tweeting, "Smart Move! Any health care employee who refuses a vaccine doesn't belong in health care. Patients want health care professionals to help them heal—not kill them."
But opposition to the new policy was just as strong—some worrying about the reaction among those unvaccinated staff who adamantly refuse the jab, that Genesis's policy would trigger a mass exodus of employees.
Four in 10 nursing home staff still unvaccinated.
And with four in 10 nursing home staff still unvaccinated and opinions running at a fever pitch over this debate, it's possible. @angieLovesUSA is concerned that it just might. She tweeted, "what happens when all our medical professionals walk out?" But @BudRoberts8 thinks staff should refuse the directive, calling on them to "all walk out and see if they can find workers."
@TherapyCat1317 remarked that Genesis's vaccine mandate even trounces personal freedoms, "they don't get to make medical decisions for you!"
Regardless of the side of the debate, the long-term care industry is in a tricky corner. Nursing home operators realize they must be more aggressive in overcoming vaccine hesitancy among their employees to protect residents and their staff. Some providers are choosing a pro-education approach by answering questions about the benefits and pitfalls of the COVID19 vaccine. Some companies, like Genesis, now believe that the only way to improve stagnating vaccine levels is by requiring immunization as a condition of employment.
Families for Better Care offers an alternative solution: unlock the nearly $500M in collected nursing home fines to award bonuses to inoculated staff. Federal officials can, right now, authorize penalties for "facility improvement initiatives." There is no better initiative than saving the lives of nursing home residents and their caregivers. Education and encouragement through incentives may convince more staff to get the jab.
But time is running out.
Evolving variants and rising infection rates mean vaccine mandates for nursing homes will become a reality sooner rather than later for our health care heroes.
Evolving variants and rising infection rates mean vaccine mandates for nursing homes will become a reality sooner rather than later for our health care heroes. And when that happens, and if employees exercise their right to refuse and resign, this overstretched and exhausted workforce may not be able to absorb that kind of hit.
Residents don't need that stress.
RECENT POSTS
FL Governor's Holiday Order Creates "Right Conditions for Perfect Pandemic Storm" in Nursing Homes
Governor DeSantis announced last month that nursing home and assisted living residents are permitted to leave facilities and
Read More