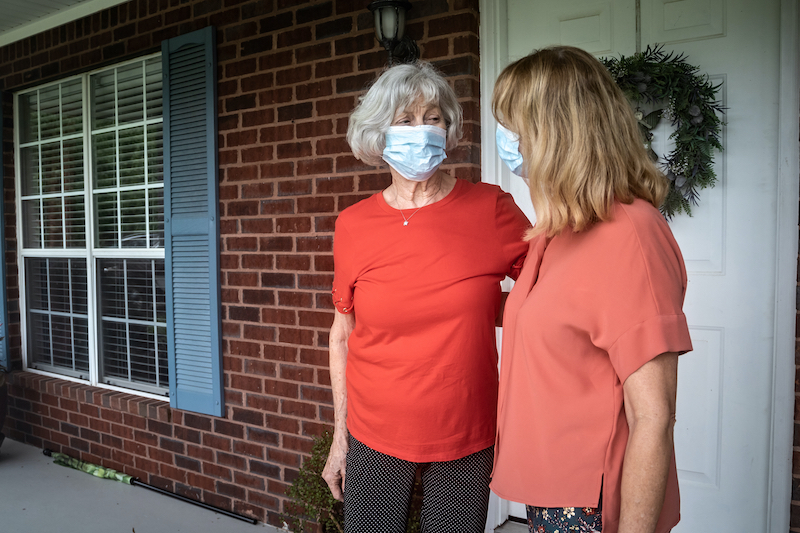 5 Things You Need to Know about Nursing Homes Reopening
September 28, 2020
The coronavirus has been devastating for nursing homes. Overworked caregivers have been pushed to the brink. Tens of thousands of residents and staff have been infected and died. And nursing home residents have suffered six agonizing months of isolation, ripped from their families arms due to lockdown restrictions.
So with all of this bad news, we're long overdue for some good news.
And here it is.
Nursing homes have been ordered to reopen to visitors and families immediately under new federal guidance published by the Center for Medicare and Medicaid Services.
Now before grabbing your keys and speedily rushing off to the nursing home, there are five things you must know to hasten that reunion:
1. Expect heightened screening protocols
Every nursing home must follow "certain core principles" and "best practices" to mitigate additional spread. There is no wiggle room on these visitor expectations. Failure to abide by any of these principles could result in your being asked to leave the premises and may impede future visits. Be prepared to answer questions about recent health symptoms; to have your temperature checked when you arrive; to practice good hand hygiene and social distancing; and to follow facility instructions on safe visitation. And regardless of your stance on face masks, there is only one option when visiting a nursing home, and that is you must wear a face mask at all times, covering your mouth and your nose. No exceptions.
2. Outdoor vs indoor visitation
The feds prefer outdoor visitation. They say that the great outdoors is still the safest way to meet as the wide open space provides better airflow that "reduces the risk of transmission." Any outdoor visitation should be accommodated. Indoor visitation should be allowed. In fact, the feds are pressing administrators to facilitate more indoor visits; now threatening nursing homes with citations and fines if they fail to comply with the new federal visitation guidance. However, in cases where there are high county positivity rates, or in the event that a facility has had an onset of COVID19 cases in the previous 14 days, indoor visitation may be temporarily restricted.
3. Know your county's positivity rate and if you're designated to offer "compassionate care"
What do county positivity rates have to do with the reopening nursing homes? Everything. Indoor visitation is permissible only if positivity rates are below 10 percent, anything higher means that nursing homes may only allow visitors who meet the "compassionate care" criteria.
Prior to this updated guidance, compassionate care meant visits that related to an end-of-life situation. But that definition has been broadened to include, such things as, residents suffering severe emotional distress, residents who need "cueing and encouragement" eating and drinking to prevent malnutrition and dehydration, and visits offered by clergy for spiritual counseling and assistance.
Positivity rates are updated weekly. Be attuned to these fluctuating rates, they will affect your visitation status.
4. Testing recommended, but not required
Families for Better Care strongly recommends that all nursing homes should use on-site molecular rapid testing as a mitigation strategy when allowing visitors. Molecular rapid testing identifies asymptomatic cases that other rapid tests frequently miss. Good testing helps facility administrators keep the virus at bay. However, while this latest CMS guidance does not require a test for visitors before entering the nursing home, it is recommended that facilities test visitors in counties with medium or high positivity rates.
5. Now, go and schedule your visit
The bottom line is if your love one's nursing home has no new onset of COVID cases in the last 14 days, if the facility is not testing for outbreaks, and if the nursing home's county positivity rate is below 10 percent, you're now able to schedule a visit. That's right, schedule a visit. Even though this guidance reopens nursing homes, it's doing so in a tempered, cautionary way. The feds are requiring facilities to limit the number of visitors a resident receives at one time and to limit the number of visitors in the building at one time. That means you will need to ask your facility about visitation times so staff can safely accommodate your arrival. Now, go and schedule your visit and enjoy that long overdue reunion.
BONUS TIP
If you believe your facility is denying you access to your loved one, you may file a complaint with your state survey agency and/or your local ombudsman. If that doesn't work, contact Families for Better Care. We'll help.
RECENT POSTS
To Jab or Not to Jab? Nursing Home Vaccine Mandate Debate Heats Up
Genesis HealthCare recently announced employees must now get a COVID19 vaccine. Period. Company leaders warned that if staff
Read More